>>back to home page
N.S. IMMOBILIARE INVESTMENT Real Estate and Investment Ltd. is an agency dealing with the sale and development of real estate, as well as providing expert investment consultation. Hungary, Germany, Austria, Romania, Slovenia, Croatia and Serbia lie within the area of operation of our company.

Our legal predecessor, the NEUSCHER-INVEST Vendéglátó, Kereskedelmi, Szolgáltató, Ingatlanforgalmazási és Befektetési Kft [NEUSCHER-INVEST Catering, Commerce, Service, Estate Agency and Investment Ltd.], was formed in July 1990. During the initial period of operation, in co-operation with the Direct Commercial Representative of WIK GmbH in Hungary, the firm promoted the spread of the ASKO company in Hungary by seeking real estate suitable for building shopping centres. Following the merger with ASKO, METRO hypermarkets as well as PRAKTIKER construction material stores were opened on these sites.





7634 Pécs, 6. sz. főút
METRO és PRAKTIKER áruházak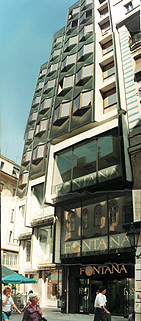 1052 Budapest, V. ker.
Váci utca 16.
FONTANA ÁRUHÁZ




In 1992, we succeeded in selling the property at 35 Váci Road, Budapest district XIII, where the River Estate Office Block stands at present.

One of the most significant successes of the following year was the sale and lease of the FONTANA Department Store in Váci Street, the pedestrian precinct of Budapest. We were also involved in selling the building in Vörösmarty Square accommodating the famous Patisserie Gerbeaud.

Under commission from our business partners, we have helped in the opening of several chemist's, shoe stores, and restaurants.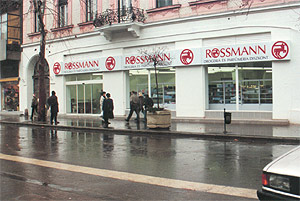 5600 Békéscsaba, Andrássy u. 9.

Rossmann-drogériaüzlet



Food trading companies now successfully operating in Hungary also belong to our circle of clients. Our firm has contributed to the establishment of their department store chains in this country, by seeking suitable sites. On properties that we have recommended, PENNY MARKET Ltd. stores have been built, among other places, in Szentes, Szarvas, Karcag, Békéscsaba, Kisújszállás, Eger, Nagykanizsa, Balatonlelle, Tatabánya and Sárvár, SPAR or INTERSPAR stores in Tapolca, Nagykanizsa and Veszprém, and BILLA supermarkets in Budapest district IV and Békéscsaba, as well as the Szeged METRO Store.


6728 Szeged, Budapesti út 1.
METRO ÁRUHÁZ


Among others, the following belong to our circle of business partners: KIKA Home Furnishings Ltd., the ACCOR Hotel group, Baumax-x Hungary Ltd., Bricostore Hungaria Development Ltd., Praktiker Hungary Construction and DIY Markets Ltd., AUCHAN Hungary Ltd., CORA Fót Hypermarket Ltd., the Delhaize group, the METRO Holding Hungary Ltd., REWE & Co. OHG, the Tengelmann group and TESCO-GLOBAL Stores Ltd.

Our sphere of activities is not restricted to the mediation of commercial properties, however. The VILLA MEDICI Restaurant was opened - built with the firm's own investment - then next to it the HOTEL**** VILLA MEDICI in 1997, which is to be found in the most beautiful part of the city of Veszprém, in the valley at the foot of the Viaduct.


One of the most significant of our commercial investments is the PENNY MARKET Store built in Berettyóújfalu.

8200 Veszprém, Kittenberger K. u. 11.
Hotel Villa Medici

4100 Berettyóújfalu, Dózsa Gy. út 39.
PENNY MARKET ÁRUHÁZ

The Balaton Televízió belongs to the investment participation of our company.



Besides construction plots for commercial purposes in various parts of the country, and development of business premises in busy city centres or housing estates, our company is also happy to deal with various investment opportunities, mainly in connection with real estate. We can recommend buildings for professional and financial investors which are in operation or can be run as office blocks or hotels, or even department stores or shopping centres, promising favourable returns.

Our activities have recently been extended to include estate agency for the general public. Our company is selling the FÁSKERT LAKÓPARK high-standard, custom designed apartments under construction in Veszprém.

With regard to the fact that our sphere of operations extends to Romania, Slovenia, Croatia, and Serbia as well as Hungary, we are at our customers' service with our estate agency and development activities in these countries too.

Our firm is happy to assist enterprises of any type with their expansion activities, in the search for property in line with their requirements as well as investment opportunities, and with the utilisation of real estate. We would be pleased to be contacted by private individuals and enterprises, who are interested in co-operation with our firm. We trust that our work can contribute to the achievement of success for us all.



Sándor Neubauer
executive




N.S. Immobiliare Investment & Distribution Ltd.

[p] H-8200 Veszprém Eszterházy u. 7-9.
[t] +36-88-565-220 [f] +36-88-403-065
[e] info@nsimmobiliare.com ns@nsimmobiliare.com
[w] www.nsimmobiliare.com